Welsh butcher supplies best local meat in illuminating shop display.
Carmarthen butcher Rogers & Son are sourcing the finest local meat from nearby farms to support local,
responsible farming and make top quality Welsh meat accessible and affordable for everyone. The family-run butchers, headed up by Chris and Colette Rogers and Olly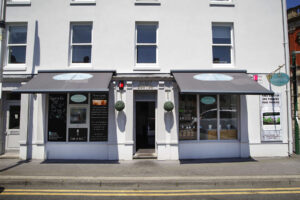 Woolnough, help customers select the best cuts of meat to suit their budget, and can tell them exactly which farm in Carmarthenshire or Pembrokeshire their meat has come from.
The quality of their meat sees the butchers supplying Wales' top, award-winning Welsh restaurants.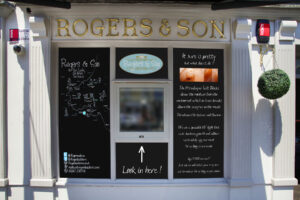 The team have created eye-catching, visual and educational displays in
their newly refurbished Carmarthen shop to show customers the origins of their meat and the salt chamber where meat is aged.
As well as ordering over the phone and via Rogers & Son website and social media, the butcher also offers a free virtual butcher service, where customers can talk to one of the team via a FaceTime or WhatsApp video call. The customers can choose their meat from what is available on display in the shop and the team courier the produce in eco-packaging for next day delivery.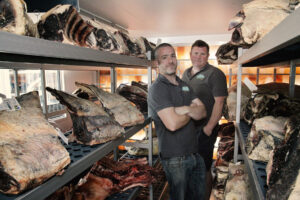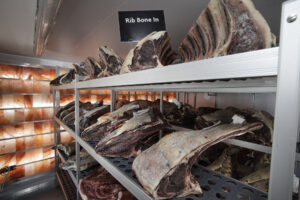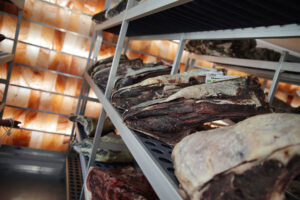 Supporting local farms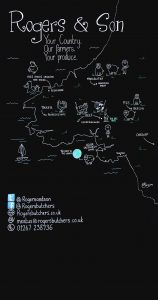 The team source Welsh meat on the bone from farms across Carmarthenshire and Pembrokeshire.
Chris Rogers is passionate about sourcing some of the best meat in Wales.
"We are a local butcher sourcing local meat for local people. Our drive and vision is to promote and showcase
exceptional Welsh produce to as many people as possible."
"We work very closely with local farmers who take great pride in nurturing produce. We are in a fortunate position in having so many wonderful farms on our doorstep, we feel it is our duty to carry on the hard work the farmer has done."
"We know our farmers, we know our animals, and we know what wholesome lives they lead."
Shopping experience
Customers can order their meat from Rogers & Son by visiting the shop, online or over the phone.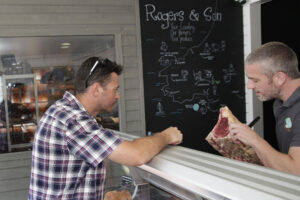 Colette Rogers said: "Customers can visit the shop and we'll show you the meat, show you where it's from, and you can select your individual piece of meat."
"We have meat to suit all tastes and budgets. We help our customers pick the best cut at a fair price and one to suit their budget."
"We give our customers as much or as little information about their meat as they want."
"The transparency of where the produce is from is really important to us and our customers, that's why we've created a map for people to see where there their meat comes from."
To tie in with their six-year anniversary the team have refurbished the shop to provide customers with a view inside a large mirrored Himalayan salt chamber where customers' meat orders are aged on demand.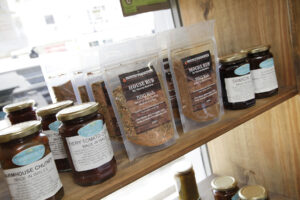 Olly Woolnough said: "Walking into the shop you get an instant realisation that this is not your usual high street butchers. We have done everything
to show the customer what goes on to provide them with top quality meat."
"I think we are the first butcher in Wales to offer this glimpse into the meat ageing process on such a grand scale. We're not talking about a handful of ageing steaks here, our chamber is able to hold a large volume of local meat on the bone, allowing us to age naturally and to get the best results without rushing the process"
"The salt blocks in the chamber draw moisture from the environment which helps break down the enzymes in the meat, enhancing the texture and flavour. This paired with a specialist UV light allows us to safely age our meat for as long as the customer wants."
"This is not about style over substance. Functionality is first and foremost. It's a pretty spectacular sight to see the meat whilst it's ageing and we wanted to share this with our customers, we wanted them to experience it too."
Rogers & Son Butchers, Lammas Street, Carmarthen is open Tuesday – Friday 8am-4pm and Saturday 8am – 1pm.