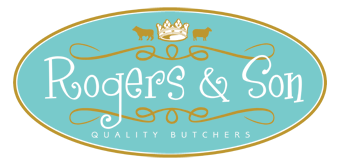 We are based in the centre of West Wales surrounded by lush & fertile pastures. We know our farmers, we know our animals & we know what wholesome lives they lead. We are in the unique position of being able to offer you this spectacular produce delivered to your door at an affordable price.
Since opening in June 2012, Chris Rogers has enjoyed a busy time at this popular family butchers in the heart of West Wales. Through hard work and a commitment to quality and customer service, Rogers & Son has already begun to earn an excellent reputation. This reputation has been recognised by winning the prestigious title of Butcher Shop of the Year.
Rogers & Son Carmarthenshire beef is handpicked from a number of local farms in the heart of the rolling west Wales countryside, supporting the local economy and keeping food miles to a minimum. Their beef also carries the prestigious PGI status (Protected Geographical Indication). This means that you can be assured that the beef has been born and reared in Wales, benefitting from a fertile landscape that has been blessed with the purest of natural ingredients : clean Atlantic air, spring water, and fresh grass; coupled with traditional farming practices to produce a world class quality beef. In addition, their 21-day dry maturing process enhances the concentration and saturation of the natural flavour of each animal, as well as the tenderisation of the meat texture.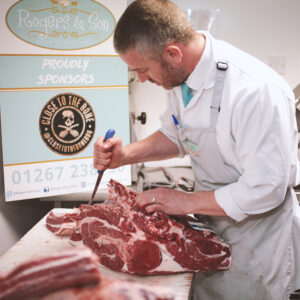 Click & Collect
Carmarthen Store
Nationwide Delivery
£10*
From our beautiful local salt marsh lamb to our 28 day-aged Welsh beef. Our online shop provides a convenient way for you to purchase our quality meat and have it delivered directly to your door.
Visit Us
We're Open
Shop from our complete menu of fresh, daily meat counter.
Tuesday – Saturday: 8am – 5pm
Sunday & Monday : Closed
Get IN touch
+44 1267 238 736
19-20 Lammas St,
Carmarthen
SA31 3AL,
United Kingdom
San
Store Hours
Monday-Friday: 8am – 5pm
Sat: 8am – 5pm
Sun: Closed